The Tonmeister Test
Yes, MOSFET is a type of transistor and the letters stand for Metal Oxide Semiconductor Field Effect Transistor.
Question 5
Fritz passes his exams, but he cannot get a job, so he starts his own small PA hire firm. His first small system cost him £100 and has an output of just one hundred Watts and generates 100dBA at a distance of ten meters. Fritz wants to buy more of the same system and the prices have remained the same. How much will Fritz have to spend in total (including the cost of his present system) so that . . .

Most people perceive the volume to have doubled at the same distance?

£100

£200

£300

£400

£600

£1,000

£2,000

x

£3,000

x

£4,000

x

£6,000

£10,000

£100,000

£1m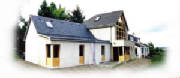 The quiz is optimised for Internet Explorer. When using other browsers, you may find that the buttons do not match up to the questions precisely.