A description of the songs on the latest CD 'Runes is Sunrise'
Heard throughout the World.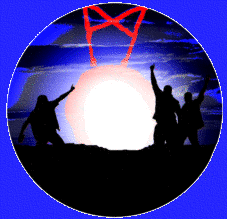 Runes is Sunrise
Sunrise Part 1: Two minutes of driving beat introduce one of the most exciting records to have come out of the Highlands

Sunrise Part 2: This beautiful song, penned by Steve Eaglesham, sets the tone of yearning in this record. Its what you feel inside, when your time has come. It was written on a local feature called The Cat's Back that overlooks the sea. The cover photograph was taken minutes after Steve had written the song 'Sunrise.'

Sunrise Part 3: Part Two blends effortlessly into Part Three as the first musical theme from the start of the record is resurrected, but this time with a vengeance. The stinging sound of a driving mandola, like an angry wasp, is joined by a sudden, thumping bass. The instruments enter one by one, until two lead guitars battle for supremacy. The second, staccato and sudden, seems to have won. But in the end, the first takes over in a howling crescendo of victory.

Jam In: Majestic piano chords counterpoint with sax and lead guitar in this most unusual of pieces. At nearly seven minutes, this is the longest piece on the record and is totally improvised.

House: This unforgettable Les Cowley song may be about life and death, but it is also about his haunting guitar playing, a unique style that combines jazz and rock phrasing with flamenco-style picking.

Runes Part 1: A beautiful acoustic guitar solo by Gareth Ince.

Esther: A truly beautiful love song with a silky sax solo, written by Les. And yes, his wife is called Esther!

Square Real: Well, its square and its very real: a Scottish reel, written by the members of the band and played in a modern idiom.

Shipyard: A Steve Eaglesham song lamenting the death of the shipyards. "When I was a boy on Clydebank, I remember watching great ships like the QE2 being built. Every day the ships would seem to have become just a bit bigger until the great day when the ship was launched. It was a breathtaking sight and launch days were almost local holidays."

Runes Part 2: Recorded outside the studio (you can just hear the birds singing in the background) Gareth Ince and Campbell Goodall perform a beautiful duo for acoustic guitars.

Josa Losa: Steve reminds us of the fate of those who had to escape political persecution in South Africa and the fate of one friend in particular, who through no fault of his own, will never be able to return.

Two a.m.: Campbell sings of the loneliness of the night time after a concert.

Jig: Written by Les Cowley, this is a Scottish jig played the old fashioned way.

Pea Broth and Irish Stew: This is a renamed traditional air played the modern way.

Key for Da Djembe: Another instrumental written by the band, it combines elements of rock and traditional Scottish music, underpinned by the fantastic percussion playing from Tess Stirling.

Jam Out: This has a very different feel to Jam In, a quiet duo for just sax and fiddle. But if you listen carefully, you can hear that it is the same theme as Jam In.
_________________________